Wedding cakes
Planning your wedding is a big affair and a lot of work! Let us help you make this step easy and memorable. Call today to book a consultation for you and your fiance (well-wishers also welcome to attend!). Consultations include a 30 minute sit-down with tastings of all cake flavors, fillings and toppings. We'll discuss any ideas you may have as well as pricing. Please bring any pictures or color swatches you have at that time.
The fee for cake tastings is $30. Wedding cakes booked are 25% down upon ordering, remainder due 30 days from event.
Sponge Cake Flavors
Vanilla Bean
Lemon
Chocolate
Marble
Carrot spice cake
Cake Fillings
Vanilla pastry cream
Chocolate pastry cream
Lemon curd
Ganache
Cream cheese
Vanilla buttercream
Chocolate buttercream
Raspberry filling
We are open to accommodating most flavor suggestions.
(Most cakes can be altered to include gluten free, vegan or dairy-free)
Example of wedding cake sizes and pricing:

Serves 92 – 115. Price $4.00/per person. Total: $460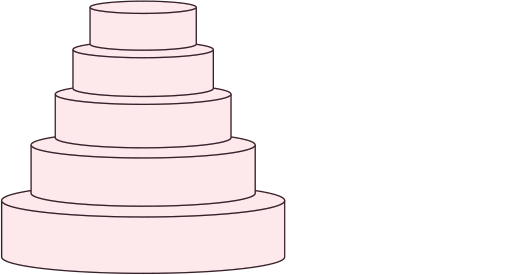 Serves 273 – 300. Price $4.00/per person. Total: $1,200
These prices are an example of buttercream covered cakes with ribbon decoration only. Garnishes, fondant covered and  extra embellishments are priced according to degree of difficulty and time for production.
Specialty cakes, cupcakes, cake pops, cookies and macarons
We offer variety of special order cakes; party, birthday, anniversary and other special occasions. Please come see us to discuss your next big event.
Flavors
Vanilla bean
Chocolate
Carrot spice cake
Lemon
Icings
Vanilla bean buttercream
Dark chocolate buttercream
Cream cheese
Example of specialty cake pricing
Basic 9" sponge cake with buttercream icing covered in fondant/marzipan. Decorated in theme of your choosing is $75. This is the cost for a simple three dimensional cake. The more complicated and time-consuming the theme, the higher the cost.
Cupcakes are $2.50 for large, $1.50 for small. 6 pack of large or 12 pack of small for $18. Macarons are $1.75.
Custom cupcakes are $2.75 for large, $1.75 for small. 6 pack of large or 12 pack of small are $22. Custom cookies start at $3 each.