Bringing your fairy tale dreams to life is our specialty! We are pleased to offer a wide variety of personalized cakes and pastries for all occasions and would love to help make your big event even more special with a customized order – please place order at least 10 days in advance.
Custom Cakes, Cupcakes and Cookies
A basic 9" sponge cake with buttercream icing covered in fondant/marzipan and decorated in a theme of your choosing starts at $85. This is the base cost for a simple three-dimensional cake. All of our cake flavors and fillings are listed below under Wedding Cakes.
Basic cupcakes are $4.00 each for regular and $2.50 each for mini.
Macarons are $2.50 each.
Custom cupcakes begin at $4.25 each for regular and $2.50 each for mini.
Custom cookies start at $3.50 each.
The more complicated and time-consuming the theme, the higher the cost. Please consult with us in store for more accurate pricing.
Wedding Cakes
Hansel and Gretel Bakery is pleased to offer cake tasting consultations to help you design your perfect cake! Let us help you make this step easy and memorable. Call or email us today to book your consultation!
Our consultations are approximately 45 minutes, and cost $80 for up to four people (includes coffee/tea and a sampling of our delicious cake, icing, frosting, and filling options) – additional guests are welcome at a cost of $10/person. Please bring along any pictures or color swatches, and let us know ahead of time if there are any specialty flavors you are interested in sampling or if there are any allergies or preferences to consider.
Cake Flavors
Vanilla
Lemon
Chocolate
Marble
Carrot ginger
Red velvet
Cake Fillings
Vanilla pastry cream
Lemon curd
Ganache
Cream cheese
Vanilla buttercream
Chocolate buttercream
Black Cherry
Tres raspberry
Fresh fruit
Various additional flavors of buttercream
We are open to accommodating most flavor suggestions. Most cakes can be altered to include gluten friendly, vegan, or dairy-free. Wedding cakes booked are 25% down, with the remainder due 30 days from the event.
Example of wedding cake sizes and pricing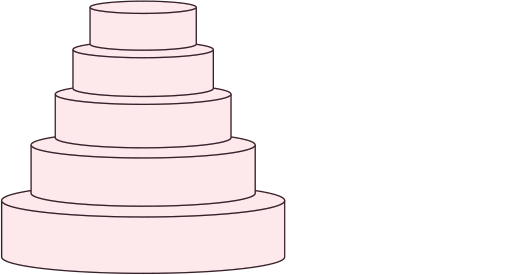 Serves 210. Price $6.00/per person. Total: $1,260
These prices are an example of buttercream covered cakes with ribbon decoration only. Garnishes, fondant covered and  extra embellishments are priced according to degree of difficulty and time required.
Please inquire at least 3 months in advance for any wedding order.